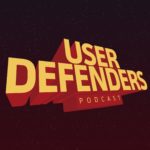 Prefer to watch the video?
I was so delighted when at the beginning of 2017, Eric Meyer + Jeffrey Zeldman asked me if I wanted to record a live episode at my favorite design conference–An Event Apart.
User Defenders Live! was perfect—hilarious, honest, unpretentious, direct, and filled with memorable insights from four very different, very smart, very experienced designers.

— zeldman (@zeldman) December 12, 2017
Welcome to this very special episode where I felt like I needed to give a radio intro in front of a live audience! Lol, you'll see what I mean.
Thankful to my hero Chris Coyier for saving the day and pulling me out of broadcast mode, into live mode. First time for everything!
I'm still in awe at my panel of bad design Avengers consisting of Cassie McDaniel, Chris Coyier, and Luke Wroblewski who each added so much value to the episode and attendees.
Oh, did I mention this session took place right after "Happy Hour"?
Please enjoy this very special, first-ever live broadcast of User Defender podcast!
While you're here
I'd love to introduce you to the podcast if you're unfamiliar with it. I interview UX superheroes who fight for the users, in order to inspire and equip you to do the same.
Check out these interviews I've done with An Event Apart speakers and/or A Book Apart authors:
051: Accessible Design = Better Design with Derek Featherstone
048: Pick Yourself with Cassie McDaniel
047: The Web is Neither Good or Bad…nor is it Neutral. It's an Amplifier with Jeremy Keith
Special Episode: An Event Apart Denver + Origin Story with Eric Meyer & Jeffrey Zeldman
031: Getting Scrappy with Mat Marquis
030: Content for All with Aaron Gustafson
028: Be Persistent with Chris Coyier
027: Looking Down the Road with Aarron Walter
020: Stay Enchanted with Jeffrey Zeldman (2-part interview)
Design for Real Life with Eric Meyer & Sara Wachter-Boettcher
018: The Beauty of Simplicity with David Demaree
015: Going the Distance with Rachel Andrew
013: Practice What You Do with Dan Mall
009: There is No "Big Time", There's Always Something Ahead with Josh Clark
---
SUBSCRIBE TO AUTOMATICALLY RECEIVE NEW EPISODES
Apple Podcasts | Spotify | Pandora | Amazon Music | Stitcher | Android | Google Podcasts | RSS Feed
USE YOUR SUPERPOWER OF SUPPORT
Here's your chance to use your superpower of support. Don't rely on telepathy alone! If you're enjoying the show, would you take two minutes and leave a rating and review on Apple Podcasts? I'd also be willing to remove my cloak of invisibility from your inbox if you'd subscribe to the newsletter for superguest announcements and more, occasionally.