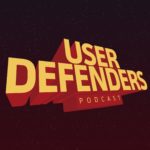 Dr. John Whalen teaches us what it means to design for how people think. He reveals the powerful principals behind what he calls the six minds of user experience, and explains how anybody can harness them to build better products (no doctorate degree required!). He reminds us that it takes serious research to reveal the deep insights that genuinely make our products successful for the user and the business. He also encourages us to understand that no one is more qualified than anyone else in solving unique problems.
Buy the Book

Buy Design for How People Think through my Amazon affiliate link, and help User Defenders at no additional cost to you. Win/win!
John Whalen is the founder and Lead of Psychological Insights & Innovation at Brilliant Experience. He is an international speaker, and author of the recently published book Design for How People Think: Using Brain Science to Build Better Products (O'Reilly). John helps businesses use psychological research to strategically position their products, services, and marketing. He has a PhD in Cognitive Science and 15+ years of experience working in user research and product design with Fortune 500 companies and design agencies including Google, PayPal, Bloomberg, eBay, Cisco, Capital One, and Johns Hopkins. Little known fun filled facts: He's camped North of the Arctic Circle on 12 feet of ice and he's a green-eyed, left-handed Psychology PhD, making him (statistically at least) 1-in-a-million.
Psychology and UX (5:04)
Six Minds of Experience (8:48)
Impact of Psychology (10:54)
Acronym Cheat Sheet (16:03)
Three Phone Numbers (17:08)
Dark Psychology (25:21)
Designing for Delight (31:24)
Contextual Inquiries (42:50)
Upside-Down Design (49:37)
Design Superpower (56:09)
Design Kryptonite (57:04)
UX Superhero Name (58:43)
Habit of Success (59:05)
Recommended Book (1:08:02)
Best Advice (1:10:38)
Continue reading 067: Design for How People Think with John Whalen