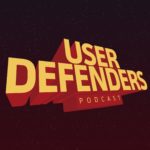 Seth Godin shows us what radical empathy looks like. He reminds us to do work that matters, for people who care by focusing on serving a minimum viable audience. He teaches us that the way to stay indispensable in our work is to do work where you can't write down the steps. He also reveals how faked empathy is just as good as real empathy for the true professional acting 'as if'.
This is Marketing

Buy Seth Godin's brand new, amazing book through my Amazon affiliate link, and help User Defenders at no additional cost to you!
Seth Godin is the author of 18 books that have been bestsellers around the world and have been translated into more than 35 languages. He's also the founder of the altMBA and The Marketing Seminar, online workshops that have transformed the work of thousands of people. He writes about the post-industrial revolution, the way ideas spread, marketing, quitting, leadership and most of all, changing everything. You might be familiar with his books Linchpin, Tribes, The Dip and Purple Cow. In addition to his writing and speaking, Seth has founded several companies, including Yoyodyne and Squidoo. His blog (which you can find by typing "seth" into Google) is one of the most popular in the world. In 2018, he was inducted into the Marketing Hall of Fame. His latest book, What To Do When It's Your Turn is now in its fifth printing, and his new book, This Is Marketing, comes out this November. A fun fact about Seth is he did the first generation UX for educational computer games in 1983…when dinosaurs ruled the Earth.
Creating UX for Early Computer Games (4:23)
What Book Would the Seth Godin of the Industrial Revolution Write? (6:43)
How Do You Define Empathy? (9:30)
Why is Empathy Important in Doing Great Work? (12:01)
What's Your Greatest Story of Empathy in Action? (14:50)
One of the Greatest Marketing Lessons Seth Ever Learned (18:44)
Status Over Empathy (25:07)
Empathy Learned the Hard Way (28:19)
What's Your Best Advice in Building our Empathy Levels? (30:33)
Advice for Becoming Better Storytellers (32:51)
Are Our Smartphone Addictions Negatively Affecting our Empathy Levels? (34:27)
Seth's Apple Rant (37:44)
Apple Could Solve the Texting & Driving Dilemma in 4 Minutes (If They Wanted To) (39:31)
How Do We Stay Indispensable In Our Work in an AI World? (41:16)
Faked Empathy is Just as Good as Real Empathy (43:59)
What Makes You Angry? (45:34)
Jason's Blurb for Seth's New Book "This is Marketing" (48:10)