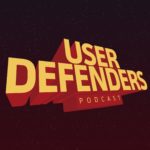 Nir Eyal teaches us how to harness the skill of the century… becoming Indistractable. He reminds us that distraction is an action that starts from within. He motivates us to take command of our personal development in a world that is frequently competing for our attention. He encourages us to recognize the external triggers that don't serve us and how to be more mindful of those that do. He also shares what it takes to be competitive in an increasingly automated job market.
Buy the Book

Buy Indistractable through my Amazon affiliate link, and help User Defenders at no additional cost to you. Win/win!
Nir Eyal is the author of Hooked: How to build habit-forming products. His latest book, Indistractable shows us how to overcome distraction, and gain one of the most important skills of the 21st century. He runs a popular blog about the intersection of psychology, technology, and business. His primary focus is on what he calls "behavioral design" which encompasses user experience, behavioral economics, and a dash of neuroscience. He's taught at the Stanford Graduate School of Business and Design. He has sold two technology companies and now help teams design more engaging products. For most of his career he's worked in the video gaming and advertising industries where he learned, applied (and at times rejected) the techniques used to motivate and manipulate users. He writes to help companies create behaviors that benefit their users, while educating people on how to build healthful habits in their own lives. He received most of his education earning an advanced degree from the The School of Hard Knocks as well as an MBA from the Stanford Graduate School of Business. He also wrestled for 4 years in high school and never won a match.
Book Origin Story (3:59)
Response to Hooked (7:59)
Seeking Relief (15:25)
My Daily Milky Way (33:40)
Breaking Habits in Stuck Environments (35:31)
Pharmaceutical Distractions (42:13)
Where Are We Heading? (45:46)
Did You Ever Find Out? (49:54)
What Superpower Would You Want? (54:06)
Continue reading 064: How to Become Indistractable with Nir Eyal