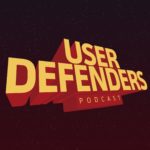 Be sure to check out Part I

Alan Cooper teaches us what it means to be a good ancestor. He enlightens us to why it's so hard to build good software. He reveals how money trumps good UX and ethics far too often. He explains why UX is not about finding the best location for a hamburger menu, but about solving the big problems that exist for the user and the business. He also inspires us to consider (and potentially redirect) the footprints we're leaving now, for the generations to come.
Alan Cooper wants to be a good ancestor. That is why he is the co-creator of the "Ancestry Thinking Lab". It's an organization dedicated to finding and teaching practical methods for assuring that technology products behave in an ethical manner. This is just his latest effort in a long career as an inventor and thought leader in the world of software. In 2017, Alan and his wife, Sue, sold Cooper, the company they had founded 25 years earlier. It was the very first interaction design consulting firm.
Early on, he established the basic design methods that are used across the industry today and helped to popularize the notion that digital technology shouldn't terrorize its human users. In particular, his invention, design personas, is almost universally used in the field. He shared his tools, knowledge, and experience in two best-selling books, still in print and widely referenced. The company's new owners are a European design firm, Designit, owned by Wipro, a tech company based in Bangalore, India.
In 1988 Alan invented a dynamically extensible visual programming tool and sold it to Bill Gates, who released it to the world as Visual Basic, arguably the most successful programming language ever. This is how Alan earned the sobriquet, "The Father of Visual Basic." He started his first software company in 1976 and produced what has been called "The first serious business software for microcomputers."
In 2017, Alan was named a Fellow of the Computer History Museum in Silicon Valley, California. In 1998 he was named a Visionary by the Silicon Valley Forum, and in 1995 Bill Gates named him the first Windows Pioneer. In 2011, Cooper left Silicon Valley to live on a 50-acre former dairy farm in the rolling hills north of San Francisco where he continues to advocate for more humane technology.
Fun fact about Alan is he's a former aircraft pilot, and a sheep and chicken farmer.
TIMESTAMPS
Should designers code? (4:40)
Specialization vs. generalization (7:41)
How do designers get business on board with building great products? (13:19)
How do you be a good ancestor? (25:30)
Ancestry Thinking (40:03)
What does the future of UX look like to you? (43:00)
What advice do you have for aspiring UX designers? (51:48)
What do you want your legacy to be? (56:14)
Continue reading 053: Be a Good Ancestor with Alan Cooper (Part II)