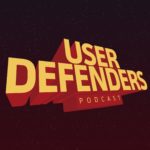 Prefer to watch the video?
I was so delighted when at the beginning of 2017, Eric Meyer + Jeffrey Zeldman asked me if I wanted to record a live episode at my favorite design conference–An Event Apart.
User Defenders Live! was perfect—hilarious, honest, unpretentious, direct, and filled with memorable insights from four very different, very smart, very experienced designers.

— zeldman (@zeldman) December 12, 2017
Welcome to this very special episode where I felt like I needed to give a radio intro in front of a live audience! Lol, you'll see what I mean.
Thankful to my hero Chris Coyier for saving the day and pulling me out of broadcast mode, into live mode. First time for everything!
I'm still in awe at my panel of bad design Avengers consisting of Cassie McDaniel, Chris Coyier, and Luke Wroblewski who each added so much value to the episode and attendees.
Oh, did I mention this session took place right after "Happy Hour"?
Please enjoy this very special, first-ever live broadcast of User Defender podcast!
Continue reading Live Recording at An Event Apart Denver (2017) with Luke Wroblewski, Cassie McDaniel and Chris Coyier